A House Under Siege
Let's say, hypothetically, flames engulfed my house in the middle of the night. To have my neighbor lean out his window and shout, "Let me know how I can help!" is actually unhelpful.  
I know my neighbors are good people. But what would be more helpful? If he ran over with a garden hose, a fire extinguisher, or dragged us away from the fire while his wife called 911. Then, after the fire department arrived, perhaps usher my stunned family out of the cold, and into the shelter of their home. Maybe even offer a blanket or cocoa for my terrified kids.
Specific, practical offers of help are always more helpful than open-ended ones.
When my family and home are under siege, I simply don't have the wherewithal to identify our top five needs, let alone ten.
Overwhelm works like that. When consumed with basic survival, we're barely able to triage what we need to do first (Did we get the dog? Wedding pictures? Jack?!) much less advise what others could do.
"Let Me Know If You Need Anything!"
As a family living with multiple disabilities, it's generally presumed we face stress, pressure and demands that far exceed the typical family. Especially in the early days, post-diagnosis, or in extreme seasons of need, we've often received earnest offers of, "Let me know if you need anything. Let me know how I can help."  
While we appreciate the gesture, we're unlikely to take up on it. We decline out of politeness and not wanting to be a burden –but mostly from embarrassment at having to acknowledge we're unable to meet our family's needs on our own. Deeply entrenched feelings of inadequacy, shame and guilt compel us to say No, even when we desperately want to say Yes.
Meanwhile, concerned friends, extended family and church members earnestly want to help. But they don't know how… and deep down, they're afraid of getting it wrong. No one wants to offend a struggling special-needs family. Let's face it: we can be sensitive and complicated (understandably). While we harbor pressing and chronic needs, we're also unable to express them.  
When we repeatedly decline offers of help, potential first-responders have no choice but to accept our answer. Meanwhile, we seethe with frustration, resentment and bitterness,
"No one understands. No one can help me!"
Drowning is usually silent.
What can bridge this gap?  How can families communicate needs (that only they would know), in a way that honors their dignity? How can a family's closest circle of community come alongside them, to provide support and do life together? How can supporters be empowered to offer intentional blessings, instead of unintentional bruising?
Compassion, Suffering With
In chapter 18 of my new book, Unbroken Faith: Spiritual Recovery of the Special-Needs Parent, I troubleshoot this ironic dilemma.  The etymology of compassion is "to suffer with." As believers, we follow in the footsteps of a suffering Savior. Even Jesus, being in very nature God, needed emotional and practical support from others during His greatest times of need.
The Divine availed Himself to being dependent. If the Son of God was humble enough to invite and accept help, then overwhelmed and stressed-out mortals should, too.
Special-needs parenting is too heavy a burden to carry alone. This lifelong squeeze leaves little room for motherhood-martyrdom. There's only one Savior; His name is Jesus.
The Help Wish List
A burden shared is a burden divided.  So how to divide, share and bear each other's burdens? I've created a practical tool for families affected by disability, and those who love them: The Help Wish List.
Like a gift registry, it serves to minimize the guesswork by allowing families to detail the specific support that will help them most. The List is pre-populated with the most common, unique needs that are often wished for by special-needs families.
If you're a special-needs family, chapter 18 of Unbroken Faith (download free Extended Preview), challenges you to write down your secret wish list. Prayerfully share your customized List with trusted friends or family who've expressed, "Let me know how I can help!"  Tom Cruise as Jerry Maguire said it best: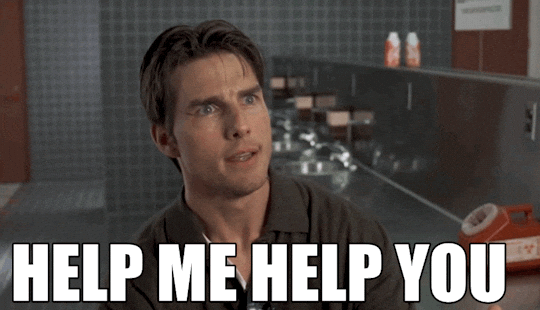 And if you're that valuable friend, a "supporter" who desires to bless a family affected by disability — or any pressing need– go to www.dianedokkokim.com/the-help-wish-list/ to offer your support today!
Questions:
Why is is difficult for us to accept or ask for help, even when we desperately need it? How might God be challenging that resistance?
Who has offered, "Let me know what I can do?  Let me know if you need anything!" Prayerfully consider sharing your Wish List with them.
Who can you bless by sharing this Help Wish List?
**** Subscribe below to receive updates by email. Your privacy respected ***